Hi and welcome to WholyFit!
Here you can try out taking an online class using the training software and see how easy and fun it is.
Use the navigation at the right to progress in this course.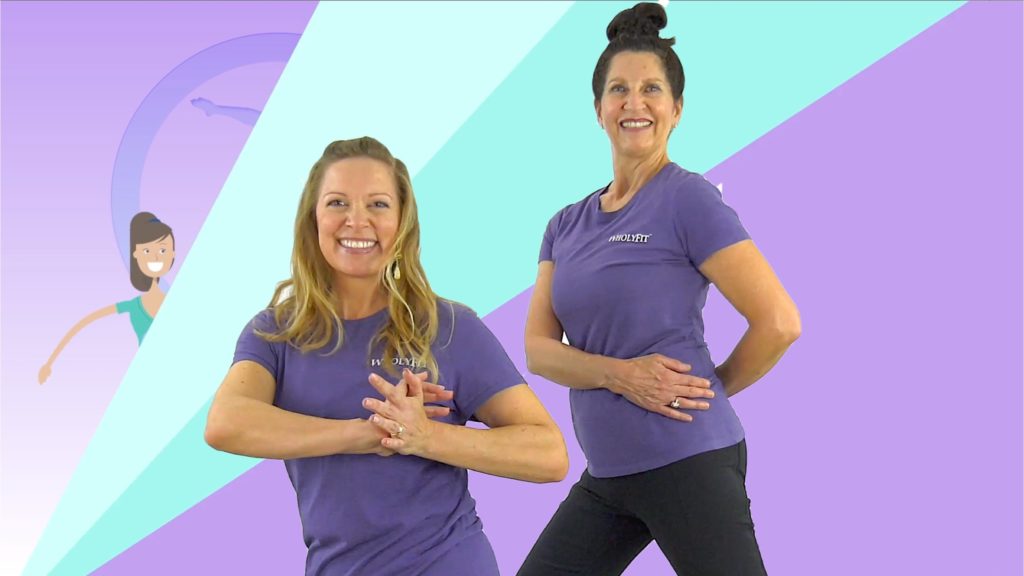 Goals: Train physically, spiritually and emotionally
Gentle Body POWER Core and Stretch
Bible Study
All Ages, All Body Types, All Levels
WholyFit Devotional Exercise – Fitness for the Whole You!
Powerful Exercise
Scripture Memorization
Worship
Prayer
WholyFit started around the year 2000 with a unique stretching and strength system we simply called, "WholyFit." Since then we have added other fitness systems and so we call our original and most popular system, "Gentle Body POWER" stretch and strength. Every warm-up teaches memorization of a scripture using movement.
Devotional Exercise
This term sums up all our fitness systems, whether they are cardio, stretch, ballet, funk, kickboxing, alternative to tai chi, etc… That's because we add a biblical devotional element to each class.
Fitness for the Whole You!
Fitness should fit you well in your body, soul and spirit. You will find that WholyFit fitness systems are the safest and best fitness systems in the fitness industry today. WholyFit instructors undergo extensive training to teach safe and effective classes that minister to the whole person.  Anyone can teach WholyFit.
Why is WholyFit so effective?
Because of technique.
WholyFit bio-mechanics and fitness technique abides by the American College of Sports Medicine recommendations for safety and is made up of original choreography developed by Laura Monica, a certified fitness professional with 30 years of experience (Certified Exercise Physiologist, ACSM). Her goal was  to develop new, therapeutic, mind-body corrective exercise systems in order to integrate God's Word into the fitness practice, for the health and well-being of the whole person, body, soul and spirit.
Because eternal salvation matters.
Jesus Himself said that He is the only way to the Father God. Jesus is Our Lord and we believe there is no other name by which we can be saved. Following Buddhism, for example, may make people nice, but cannot save any soul for all eternity. Only Jesus saves. We are confident that we will go to heaven when we die because we have come to God through Jesus. We believe His promises that His Son has made His sacrifice of His life for our sins. It would be cruel to encourage people to "find their own way" to heaven, or to "believe in any god they want to" when it means they would lose their soul and go to hell for all eternity. We choose not to withhold the truth from them. We know we will be unpopular for teaching that Jesus as the Only Way, but eternal salvation matters. The cost of a soul is too high and the blood of Jesus is too precious to ignore.
Because of consistency.
WholyFit is very consistent in presentation. All WholyFit instructors are united in our core values, our biblical worldview and we minister together in a truly unique community. When you go to a WholyFit trainer, you always know what you will get: the very best in safety for body, soul and spirit! WholyFit classes and instructors are consistent in presentation. WholyFit exercises and techniques are very focused in technique, bio-mechanics and postural form which sets them apart as distinctive. WholyFit Instructors teach only WholyFit branded exercises that have been tested for safety. We believe all movement has God as the source since He is our Creator, so WholyFit is very free using all forms of exercise that serve to give the proven benefits of exercise.
Because of origin.
Classical yoga (the pure form of yoga) teaches the use of human movement to open 'chakras' which we do not accept as scientific fact. We chose exercises purely for health/fitness reasons. WholyFit exercises were developed to achieve fitness purposes and for the joy of it. All movements are offered as worship to the One True and Living God, just as the rest of our lives are also active worship. For example, we raise our hands to express our love for Him; We also do dishes and all other daily activities as worship.
Because we meditate on Scripture.
WholyFit exercises are accompanied by Scripture. Practice WholyFit to memorize Bible verses kinesthetically, building the Words of God right into  your muscles, into your neurological circuits, into your synapses, into your individual emotional "wiring." Our mascot is a butterfly because God's Word transforms us. We are memorizing Scripture for stress management and it becomes like stored treasure in our hearts, there to think on, there when we need it. In WholyFit, all training is presented from a conservative Biblical worldview with a loving and joyful attitude, full of worship and thanksgiving to Jesus, the Lord. Goals are centered on wholeness, holiness and fitness through Christ Jesus alone. WholyFit is Devotional Exercise; a great way to get in shape: body, soul and spirit.